Transforming the
Future with AI Solutions
At Visionary AI Labs, our vision is to revolutionize the world through cutting-edge artificial intelligence, unlocking human potential and fostering global progress. We strive to develop innovative, ethical, and transformative AI solutions that empower businesses, enrich lives, and cultivate a sustainable, intelligent future for all of humanity.
Harnessing the Power of AI to
Drive Business Success
At Visionary AI Labs, we are dedicated to transforming the way users and businesses operate by integrating cutting-edge artificial intelligence (AI) solutions. Our mission is to empower organizations to unlock their full potential, enhance efficiency, and drive innovation by leveraging the power of AI.
Natural Language Processing (NLP)
Our NLP solutions enable businesses to analyze and process vast amounts of unstructured text and data. Our services include sentiment analysis, text classification, and information extraction, empowering you to make data-driven decisions and better understand your target audience.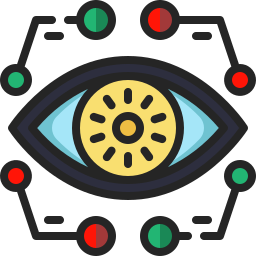 Computer Vision
Our computer vision solutions allow organizations to analyze and interpret visual data from various sources, such as images and videos. Applications include object recognition, and image segmentation, enabling businesses to enhance security, streamline processes, and deliver personalized experiences.
AI-driven Automation
With our AI-driven solutions, powered by NVIDIA SDKs and integrated within the Omniverse ecosystem, we aim to boost efficiency and substantially reduce human error. Our systems are designed to utilize sophisticated machine learning algorithms, automating monotonous tasks and optimizing business processes.
Industries and Opportunities
for our AI Solutions
The following industries are actively looking to integrate AI into there business practices:
Human Resources
Assist in candidate screenings, Create Job Postings, Interview assistance, assesments, Job Search, Ranking of Candidates
Marketing and Advertising
Content Creation, Image Recognition, SEO Content Optimization (Keyword research, Readability Scoring, Search Engine Page Result)
Real Estate and Hospitality
Property Valuation, Market Analysis, Property Matching, Personalized recommendations, Revenue Management
Energy and Power
Demand and Renewable energy Forecasting, Predictive Maintenance, Energy Storage Optimization, Energy Efficiency and Conversation
E-Commerce
Personalized Recommendations, Inventory Management, Dynamic Pricing
Banking and Mortgage
Risk Assessment and Credit Scoring, Process Automation, Mortgage Underwriting
Platform based AI Products
Everyday AI Tools is a comprehensive SaaS product designed to make the power of artificial intelligence accessible to businesses of all sizes. Our user-friendly platform offers a wide range of AI-driven tools and applications to automate, optimize, and enhance various aspects of your daily operations. Everyday AI Tools helps you gain a competitive edge, save time, reduce costs, and make data-driven decisions for business growth.
Revolutionizing Human Resources with Artificial Intelligence (Launching Soon)
AI HR TechConnect is a cutting-edge AI-powered HR solution designed to revolutionize the way businesses manage and optimize their human resources. Our platform streamlines HR processes, enhances employee engagement, and drives data-driven decision-making to improve workforce productivity, retention, and overall business performance. AI HR TechConnect is the perfect tool to transform your HR department and elevate the employee experience.

Revolutionize your Power and Energy Industry needs with AI (Launching Soon)
AI Energy Sense is a cutting-edge SaaS solution that optimizes energy consumption for businesses, reducing cost and environmental impact. Harnessing advanced artificial intelligence, it intelligently monitors, analyzes, and adjusts energy usage in real-time, empowering companies to achieve sustainability goals while enhancing operational efficiency.
Crafting Your Perfect House with AI (Launching Soon)
CasaCortex exists to push the boundaries of what's possible in the realm of real estate. Our mission is to harness the power of AI, transforming the intricate maze of property search into a seamless, personalized adventure. Through innovative features like tailored recommendations and immersive virtual experiences, we're not just helping users find a property; we're curating a journey to their dream dwelling. Experience real estate reimagined with CasaCortex